This autumn Helly Nahmad Gallery presents a retrospective exhibition by the acknowledged principal of the French Impressionist school, Claude Monet.
Taking in his diverse styles from the 1870s as he explored a wide range of subjects in all seasons and all types of weather in his commitment to painting in front of his motif, to the archetypal scenes of summer sunlight on the Seine at Argenteuil and the rural town of Vétheuil.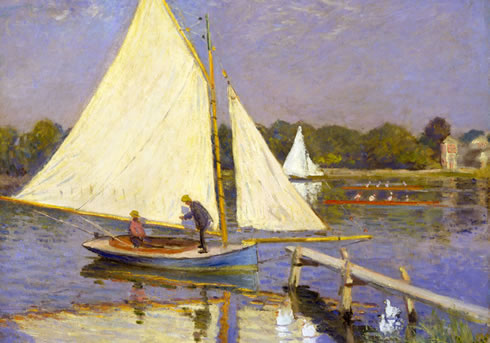 Claude Monet, Canotiers à Argenteuil, 1874
This chronological survey touches on the artist's trips to London and Venice and the series works he embarked on at the turn of the century; depicting the essential character of these great cities enveloped by the most atmospheric effects of dense smog or luminous light.
A full colour catalogue, limited to an edition 350, will accompany the exhibition and is annotated with the poetry and musings of contemporaries; as a student in Paris, Monet was inspired by the writings of Charles Baudelaire, formed a personal and professional alliance with Stéphane Mallarmé and shared a strong affinity with the music of Claude Debussy.
Providing the viewer with a powerful lens for looking at the external world, the essence of these great works of art is their power to change the way in which we see things. However familiar these things may be, be it sail boats on the river, Italian Palazzos or London landmarks, we perceive them now as Monet saw them.
www.hellynahmad.com