The world's largest museum of Islamic art in Cairo has reopened after a seven-year restoration and refurbishment project.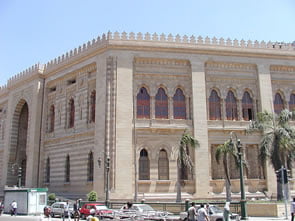 Designed by Italian architect Alfonso Manescaloand was completed in 1902 in neo-Mamluk style, founded by the German architectand scholar Franz Pasha (d. 1915), the museum housed over 3,000 relics including ceramics, tombs, doors, wooden screens, robes and rugs.
The new museum houses 1,700 relics chosen from some 80,000 historical objects.
The Museum entirely faces Cairo. It has two entrances; one on the north-eastern side and the other the south-eastern side. A beautiful garden with a fountain once led to the first entrance but was later removed. The entrance on Port Said Street features a very luxurious facade, rich with decorations and recesses inspired by Islamic architecture in Egypt from various periods. The Museum is a two-story building; the first floor comprises the exhibition halls and the second floor comprises the general stores. The basement contains a store connected with the Restoration Section.
Museum of Islamic Arts Shar'a Bur Bab El Khalk Square Cairo Egypt
Tel: 3901520
www.islamicmuseum.gov.eg