Over 300 eager bidders packed the new Baterbys Art Auction Gallery facility at 13900 Jog Road in to participate in an inaugural auction event held Feb. 20. People poured in from across Delray and the Palm Beach areas to vie for original and reproduction works of art by some of the most recognizable names in 20th century fine art.
Artists like Salvador Dali, Marc Chagall, Yaacov Agam, Elena Bond, Peter Max and Ken Keeley were represented at the sale. Bidders were favorably impressed with the high level of sophistication the gallery brought to the area. Some even appeared taken aback that a gallery of this caliber would be situated in a town like Delray, which is nicely positioned but unassuming.
Clients and buyers alike had positive things to say about the impeccable service and large amount of art knowledge freely imparted by the Baterbys art consultants who attended the opening. Also in attendance were the mayor of Delray Beach and representatives from two area chambers of commerce (Palm Beach and Greater Delray). All three were favorably impressed.
The Delray opening (held at what Baterbys is calling the Palm Beach County Gallery), came a week before a live and Internet auction slated for Saturday, Feb. 27, at the Baterbys main auction gallery, located at 9101 International Drive in Orlando, Fla. Many of the same artists will be offered at that event, too.
Previews were scheduled for both sales, immediately preceding the events, with free cocktails and hors d'oeuvres provided by a local Cuban restaurant. The idea is to create a festive environment that bidders will enjoy as they peruse artworks spanning a range of themes, to include City Scenes, Biblical and Religious, Rural Life, Abstract, Realist and other genres.
Online bidding for Baterbys art auctions is facilitated by LiveAuctioners.com and iCollector.com. The firm typically donates the entire auctioneers' premium to a local charity. For the Delray and Orlando sales, the premium was donated to UCP of Central Florida, an organization that serves children with disabilities and developmental delays in the Orlando area.
These are the first auctions of the year for Baterbys, named Best Art Gallery in Orlando for 2009 by Orlando Style Magazine and SneakySunday.com (a website dedicated to local arts and entertainment). Bidders will have had the opportunity to win free works of art and other giveaways during spontaneous raffles throughout both auctions. Everyone could receive a free print valued at $100 just for attending.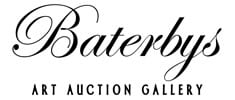 Baterbys offers its clients something unique in the industry: a lifetime money-back guarantee of authenticity for each work of art it sells. This is important to buyers looking to build a collection of art, since provenance is everything. It is Baterbys' philosophy that gaining a buyer's trust is key to ensuring they will become repeat customers. No other auction house offers such a guarantee.
Baterbys has over 25 years' experience in the art world and auctioneering. The firm specializes in Internet and live auctions of world-class, authentic artwork, especially 20th-century masters, from Dali through Chagall, Picasso, Fini and numerous post-Impressionists. Baterbys' main concentration is in rare graphic works. The firm is always accepting quality consignments for future fine art auctions.
Baterbys produces quarterly art review books that also serve as catalogs. They are a complete reference to all the artists Baterbys sells for dealers, collectors and new buyers. The catalogs – suitable for coffee table display – feature artist biographies, discussions of the artwork, and full museum-style descriptions of all the items. The cost is $49.95 hard-cover (less with a subscription).
For more information on Baterbys and the company's upcoming Feb. 27 live and Internet auction, log on to www.baterbys.com. To consign a single piece of art, an estate or an entire collection, you may call them toll-free, at (866) 537-0265. Or, you can e-mail them, at press@baterbys.com