The Kimbell Art Museum, will present "James Ensor: The Painter behind the Masks" as part of the Museum's "Art in Context" series, on Wednesday, October 7, 2009, at 12:30 p.m. in the Darnell Street auditorium.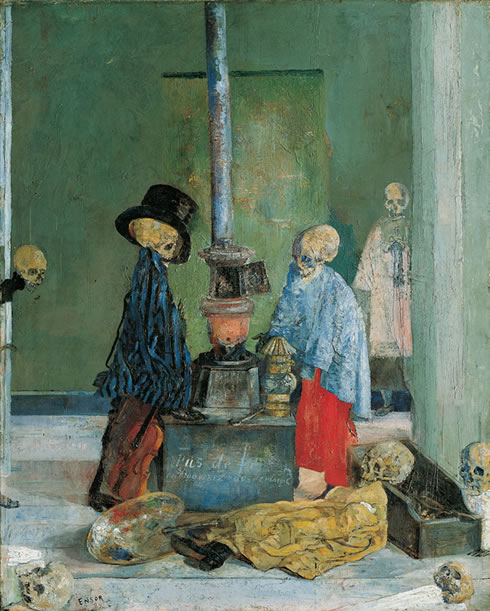 Image: James Ensor, Belgian (1860–1949) Skeletons Warming Themselves 1889 Oil on canvas 29-1/2 x 23-5/8 in. (74.8 x 60.0 cm) AP 1981.20 © 2005 Artists Rights Society (ARS), New York / SABAM, Brussels
Although much of Ensor's early work created great controversy, in his mature years he achieved huge acclaim for his paintings featuring colorful and disturbing masks and skeletons. The Exhibition will focus on the Kimbell's Ensor painting Skeletons Warming Themselves, placing it within the social and political context of late 19th-century Belgium, and will discuss the artist's painting technique. The Kimbell's painting was included in the recent Ensor retrospective at the Museum of Modern Art, New York, and also is the subject of one of Philip Haas's film installations currently on view at the Kimbell.
Kimbell Art Museum
3333 Camp Bowie Boulevard
Fort Worth, Texas 76107-2792
Main: 817-332-8451
Metro: 817-654-1034
Fax: 817-877-1264
www.kimbellart.org