For the first West Bund Biennial, curators have invited architects and artists all over the world who use architects and art to experiment with the urban development. The exhibition gives pride to pre-fab & in-situ in architecture construction, and retrospective on reflecta of China, both in the architecture field and art field, even society.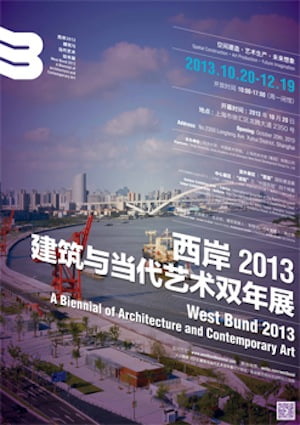 As an emerging biennale that combines architecture with contemporary art, West Bund 2013 is Asia's first international, interdisciplinary avant-garde art exhibition. We also host themed special exhibitions devoted to Chinese architecture, sound art, video art and avant-garde theatre and try to catalogue the problematic, creative typography and trends of development of these four avant-garde cultures at the turn of the 21st century. By doing so we hope we can highlight the self-regeneration and experimental creative spirit of Chinese society.
Both architecture and contemporary art are arguably the medium and apotheosis of the avant-garde culture of our own time. And the avant-garde is even more prominent as a path leading to 'contemporaneity.'
Fabrica
Through on-site construction, the architect's works will find resonance in this area and with citizens, so such interaction may enrich each other in a constant, dynamic process of mutual inspiration. The architects are Yong Ho Chang, Wang Shu, Michael Bell, URBANUS, Atelier Bow-Bow, Open Architecture, Atelier Deshaus, Johnston Marklee, Ensamble, Zeng Qun and Wang Fangji.
Reflecta: Contemporary China
Mapping China: A Retrospective Review of Its Architecture Since 2000
Curator: Li Xiangning
Cloud Theatre: Shanghai: An Odyssey
Concept Director: Mou Sen
Directors: Ma Nan, Liu Tian
RPM: Sound Art China
Curator: Dajuin Yao
Resolution Power: A Performative Video
Curators: Guo Xiaoyan, Liu Xiao
Save The Date: West Bund 2013 forum weekend
Saturday 19 & Sunday 20 October: Architecture Summit Forum
Venue: Multiple-function Hall
With themed speech by Stanford Anderson, Sarah Whiting and Manuel Cuadra, together with panel discussions orchestrated by curator Li Xiangning
Sunday 20 & Monday 21 October: Media, Society and Reflecta Forum
Venue: ceramics house in central area
Themed urban performance space, retrospective of sound art China, video artists' work report, and Reflecta of urban China, the four forums invites top and insightful thinkers, performance presenters, critics and art directors from the four fields which West Bund emphasizes in near future.
Show weekend: Shanghai Odyssey & Sonart Shanghai 2013
Cloud Theater: Shanghai Odyssey
Sunday 20 & Monday 21 October, 17h
The live performance under the dome will be composed of images, videos, urban sounds, and a dance theater. The dancers will be selected non-professional locals from all walks of life. Their movements and expressions will tell the stories of Shanghai, from a farmland to the establishment of the foreign concessions, through the manufacturing revolution to the West Bund of the future. They will showcase the metamorphosis of the city's unique local culture in the globalized world, and the unique dignity of Shanghai.
Sonanrt Shanghai 2013
Sunday 20 & Monday 21 October, 19:30h
Besides a large-scale exhibition of sound installations displayed in four large abandoned oil tanks and a complete archive of sound art in this country, there will also be a top-quality sound performance featuring both Chinese and international artists, including Alva Noto (Carsten Nicolai), Jaap Blonk, Merzbow (Asami Akita), etc.
Event weekend
XXL, architecture salons, dancing classes, and exhibition guiding tours every weekend.
Organizers: Tongji University, China Academy of Art, Shanghai West Bund Development Group Co., Ltd www.westbundbiennial.com