The Katonah Museum of Art presents Rising Dragon. Contemporary Chinese Photography, an exhibition on view through September 2, 2012 in the Beitzel and Righter Galleries.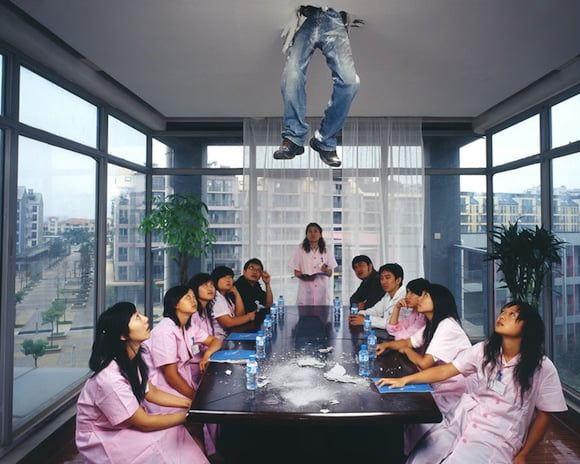 Liyu + Liubo, Chutian Golden Paper 2007-08-13, An Escapee Being Chased Dropped through the Top Floor of a Building and Scared Everybody Inside, from "The Victim" series. Digital chromogenic print, 16x 20 inches. Courtesy of the artists © Liyu + Liubo
In celebration of the Chinese astrological Year of the Dragon, the KMA presents images by Chinese artists working in their homeland over the past 12 years – a period of astounding social and economic transformation. "I see it as organized chaos," says curator Miles Barth. "It's like China itself – a mass of humanity going in every direction at the speed of light. The artists are responding to every aspect of society, everything they see and live." Subjects addressed range from the rapid urbanization of the country to the opening of the information age through the Internet. Also included are photographic tableaus that reference religion, politics, cultural identity, and the radically changing attitudes towards these societal pillars. Among the photographers represented are Liyu +Liubo, Li Wei, Muge, O Zhang, Tian Taiquan, Yang Yi, Yu Haibo, Zhang Huan, and Zhang Xiao.
Katonah Museum of Art
(914) 232-9555 phone
(914) 232-3128 fax
info@katonahmuseum.org
www.katonahmuseum.org