Gagosian Gallery presents "Richard Prince: de Kooning" an exhibition of paintings and works on paper. This coincides with "Richard Prince: American Prayer" at the Bibliothèque nationale de France, an exhibition of American literature, ephemera and artworks from Prince's personal collection. On view MARCH 30 – MAY 21, 2011.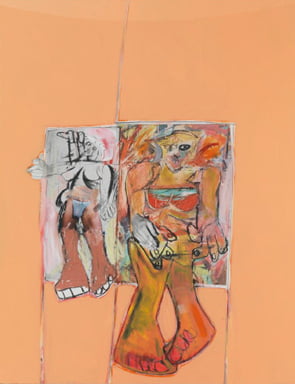 Prince's "de Kooning" series is a process of interaction with the canonic imagery of the Abstract Expressionist idol Willem de Kooning. The idea for these edgy Oedipal works came to him when he was leafing through a catalogue of de Kooning's Women series. He started sketching over the paintings, sometimes drawing a man to de Kooning's woman. As time went on, he began applying fragments of male and female torsos, genitalia, thighs, and facial features, cut and pasted from catalogues and vintage porn magazines, as well as drawing with graphite and oil crayon, adding outlines, silhouettes and textures to the original figures that further blur the distinction between de Kooning's imagery and Prince's own.
From these intensely worked drawings evolved a series of paintings that are, similarly, montages of elements from de Kooning's original paintings with figures cut from printed matter. The results are blown up onto large canvases via ink-jet printer, then the original material all but painted over. From the resulting abstract grounds, Prince then conjures up crude figures that recall de Kooning's savage female subjects. The resulting hermaphroditic creatures are hybrids on several levels, merging male with female, painting with photography and print, and the refinement of modernist art with the vulgarities of mass cultural representation. Both homage and desecration, the de Kooning paintings exemplify Prince's vision of a "Spiritual America," a historical consciousness fueled by a pervasive desire for rebellion and reinvention.
Mining images from mass media, advertising and entertainment since the late seventies, Prince has redefined the concepts of authorship, ownership, and aura. Applying his understanding of the complex transactions of representation to the making of art, he evolved a unique signature filled with echoes of other signatures yet that is unquestionably his own. An avid collector and perceptive chronicler of American subcultures and vernaculars and their role in the construction of American identity, he has probed the depths of racism, sexism, and psychosis in mainstream humor; and the mythical status of cowboys, bikers, customized cars, and celebrities. His most recent work is an explosive mix of pulp fiction, soft porn, and high art.
Richard Prince was born in 1949 in the Panama Canal Zone. His work has been the subject of major survey exhibitions, including the Whitney Museum of American Art, New York (1992); San Francisco Museum of Modern Art (1993); Museum Boijmans van Beuningen, Rotterdam(1993); Museum für Gegenwartskunst, Basel (2001, traveled to Kunsthalle Zurich and Kunstmuseum Wolfsburg); Serpentine Gallery, London (2008). The retrospective "Richard Prince: Spiritual America" opened at the Solomon R. Guggenheim Museum in 2007 and traveled to The Walker Art Center, Minneapolis in 2008. "Richard Prince: American Prayer", an exhibition of American literature and ephemera from the artist's collection, will be on view at the Bibliothèque nationale de France, Paris from March 29 – June 26, 2011.
Prince lives and works in New York.
Image: Richard Prince, Untitled (de Kooning), 2009 : Ink jet and acrylic on canvas 196.5 x 156.8 cm PRINC 2009.0124 © Richard Prince. Courtesy of the artist and Gagosian Gallery.
www.gagosian.com