The Whitney Museum of American Art presents Singular Visions, a new installation of its fifth-floor Leonard & Evelyn Lauder Galleries, devoted to works from the Permanent Collection.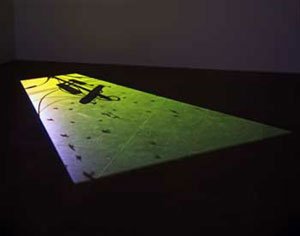 Taking a fresh approach, Whitney curators Dana Miller and Scott Rothkopf are presenting just twelve rarely seen postwar works, some of which have not been on view for decades, each individually installed in a separate gallery to encourage and provoke a direct and intimate encounter.
The installation will remain on view for a year – with periodic substitutions – and will be complemented by a series of collection exhibitions on the Museum's second floor, beginning in spring 2011.
"Singular Visions," explained Donna De Salvo, the Whitney's Chief Curator and Deputy Director for Programs, "is a bold first step within a broader Whitney initiative to reconsider the Museum's collection, especially our most challenging and complex works, as we prepare for our downtown expansion. The organizing premise of Singular Visions stems from the Whitney's long-held belief in the primacy of the authentic art experience."
The following artists are included in Singular Visions: Jonathan Borofsky, AA Bronson, Paul Chan, Sarah Charlesworth, Robert Grosvenor, Eva Hesse, Edward Kienholz, Ree Morton, Georgia O'Keeffe, George Segal, Gary Simmons, and Tom Wesselmann.
Singular Visions is organized by Dana Miller, curator, permanent collection and curator Scott Rothkopf.
Image: Paul Chan, 1st , 2005 (installation view, 2006 Whitney Biennial: Day for Night Whitney Museum of Art, 2006) Digital animated projection, black-and white and color, silent; 14 minutes, dimensions variable. Whitney Museum of American Art, New York
whitney.org