Sotheby's will present Divine Comedy, an exhibition that will spotlight humor in the visual arts through the lens of Dante's epic poem. Drawing on Sotheby's expertise across many different collecting categories and time periods, the exhibition of approximately 80 works will place Contemporary art in dialogue with Antiquities, African Art, Old Master paintings, 19th Century European art, Modern and Surrealist works, Latin American paintings and 20th Century Design.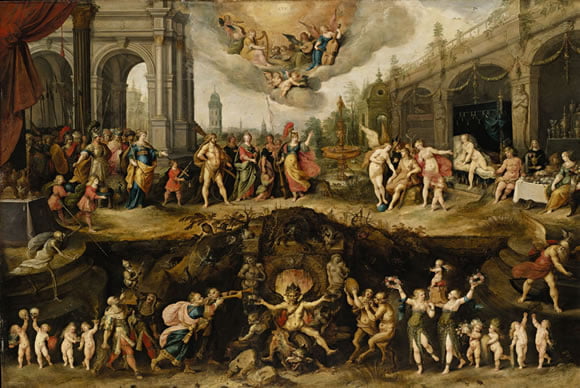 Frans Francken The Younger, Mankind's Eternal Dilemma – the Choice between Vice and Virtue. Dated 1635. Oil on panel, 56 x 83 ins. (142 x 210.8 cm). Photo: Sotheby's
Following the journey Dante takes in the Divine Comedy, visitors to Sotheby's exhibition will travel through Inferno, Purgatory and Paradise, exploring how for centuries artists have harnessed the power of humor in their work. An undercurrent of wit and satire, often tinged with irreverence, will be the hallmark of the art that is presented. The Inferno will highlight the darker, more horrific side of humor.
The exhibition begins with a Roman Imperial marble sculpture from the 1st Century A.D. In a gesture both humorous and terrifying, a young faun steps forward menacingly, wearing an oversized comedy mask of an old faun, and thrusts his hand through the gaping mouth of the mask in order to surprise and terrorize his victims. In the contemporary realm, Inferno is stunningly exemplified by Maurizio Cattelan's absurdist and unnerving depiction of one of the most evil figures all time, Adolph Hitler. Purgatory will present a place between hell and heaven where sins are revealed and repentance is sought. In this section, Frans Francken's monumental masterpiece, whose protagonist is a winged Satan with goat-like features with insects dangling from his ears, embodies mankind's choice between good and evil, as well as reminding us of the inevitability of human mortality, and the vanity of earthly pleasures. And finally Paradise will feature heavenly joy – a place of virtue, faith, hope, love and beauty. At last, with the depths of the blazing Inferno behind him, purged of all sins, Dante sees the divine light – here personified by George Condo's cross-eyed God sporting a shoulder bag, his arms wide open, ready for an embrace.
"This exhibition has been an exciting collaborative venture which brings together the diverse knowledge of our specialists to include a compelling range of works" commented Lisa Dennison, Chairman of Sotheby's North and South America. "Spanning Antiquities to Contemporary Art, the works reveal a series of unique juxtapositions that are provocative, playful, and stimulating."
The exhibition, which was inspired in part by Caroline Hirsch and The New York Comedy Festival, will include works both on loan and for sale, which have been drawn from a community of private collectors, foundations, artists, and dealers. The show will be installed in Sotheby's spectacular 10th floor galleries designed by renowned architect Richard Gluckman. Among the artists represented are: Francis Bacon, William Adolphe Bouguereau, Maurizio Cattelan, Peter Bruegel the Younger, Leonora Carrington, Salvador Dali, Frans Francken, Damien Hirst, Martin Kippenberger, Jeff Koons, Takashi Murakami, Richard Prince, Man Ray, Auguste Rodin and Andy Warhol. Of the works available for purchase, prices range from $30,000 to more than $10 million.