Timothy Taylor Gallery presents new work by Sean Scully, open through 3 July 2010. The first time that Scully has exhibited new work in London since 2006, this exhibition comes hot on the heels of a major retrospective, Constantinople or The Sensual Concealed. The Imagery of Sean Scully, at the newly re-opened Ulster Museum in Belfast and the MKM Museum Küppersmühle für Moderne Kunst, Duisburg, Germany.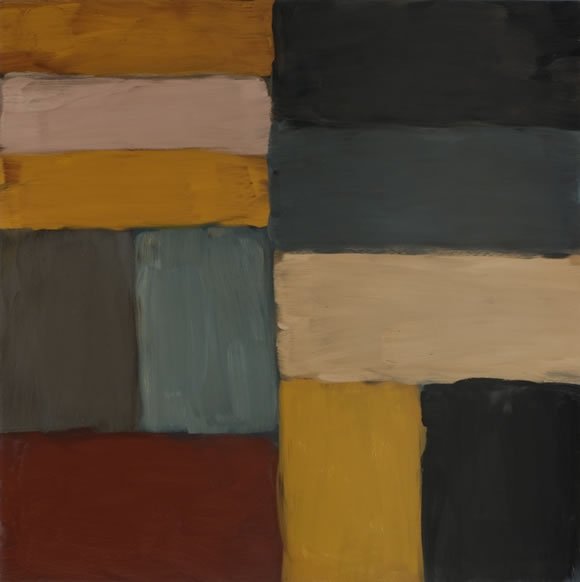 Sean Scully Wall of Light Pink Blue 2009 Oil on linen 63 x 63 in. / 160 x 160 cm T006855 Timothy Taylor Gallery
The significance of Scully's contribution to the history of abstraction since the 1970s is increasingly understood and appreciated while the artist's rigorous dedication to abstract painting, infused with both physicality and spirituality, continues unabated.
This exhibition contains many new additions to Scully's Wall of Light series, shown to great acclaim in a dedicated exhibition at the Metropolitan Museum of Art, New York in 2006. This series, which draws its inspiration from the colours and forms the artist observed during important visits to Mexico in the early 1980s, is characterised by the luminosity of the palette and the rich and subtle layering of colour upon colour. It is these qualities, which, according to Kelly Grovier writing recently in the Times Literary Supplement, call to mind the colourist Titian or the atmospherics of Turner, rather than more predictably the abstract legacies of Pollock and Rothko.
Wall of Light Temple, 2009, shows how Scully suffuses his rectangular brick-like forms not only with warmth and energy, but also with the barely visible layers of paint beneath, thereby connecting the painting both with the tangible world of vision and tactility, but also the invisible world of metaphor and indeed faith. As Kelly Grovier so nicely puts it, these paintings are 'works of dense translucence, like blocks of amber elbowing bricks of peat… their power builds geologically from below, from the compressed strata of texture and colour'. In the magisterial Cut Ground Red Blue, 2009, stripes and bricks fizz and crackle with movement and texture, in a work that harks back to Scully's own early interest in Mondrian's jazz-age riffs on New York's street grids. Further effects are gained by Scully's recent adoption of aluminium as a ground instead of traditional linen or canvas. This has tangibly increased the glossiness and luxuriance of the painted surface, and can be seen in works such as Wall of Light Pale Yellow Pink, 2009.
www.timothytaylorgallery.com