Following the success of last year's Posters sales at Bloomsbury Auctions, a private French collector has consigned a glorious group of 25 posters from the 1920s and 30s designed by the legendary Roger Broder. Posters are the first part of Bloomsbury's Maps and Fine Books sale on 28th-29th May. The posters on offer span the trademark bright flat colours, elongated elegant figures and simple graphics (lots 44-70), to more detailed landscapes such as Le Mont-Blanc Chamonix (lot 53 which is estimated £2000-3000), the strikingly bold Calvi Beach of 1928 (lot 56 estimated £6000-8000) or even the powerful Chamonix Mt Blanc Tous les Sports d'Hiver (lot 48 estimated £5000-7000) showing muscular men playing ice hockey, rather than fashionable women posing while watching tennis!
The first 22 lots of the sale cover shipping, aeroplanes and fast cars. Particularly interesting are the three Le Mans posters, Grand Prix d'Endurance de 24 Heures in lot 13 (estimated £16,000-20,000), which includes an extremely rare 1923 poster for the first race.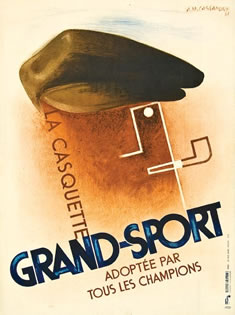 The highlights of the Vintage and Modern Posters section of the sale are probably lots 75-76 by Adolphe Mouron Cassandre, the Ukranian/ French painter and commercial artist who had studied at the Beaux-Arts in Paris and who was inspired by Cubism and Surrealism. Regarded by many as the best Art-Deco poster artist, he gave equal importance to typography in the overall design. Both lots are entitled La Casquette, Grand Sport and carry estimates of £10,000-15,000.
British travel posters may be less exotic but no less popular, and this sale has 38 (lots 106-144). The tram images of the 1920s for London and the suburbs, are most sought after. This is particularly interesting as travel by tram is making a come-back. Wimbledon Common, London's Tramways showing an autumnal view with a windmill, is estimated £200-300 (lot 117); the following lot is by James Fitton, Guildhall Museum by Tramway to the City via Southwark Bridge and is estimated £100-200. A linear design of white ducks or swans on a black ground with green and red details advertises Kingston by Tram and is by Charles Paine, as is lot 120 Barnet by Tram which has a herd of variously coloured horses and both posters are estimated £300-500. The East Coast is particularly well served in this sale; lot 134 is by Frank Newbould and shows a young lad holding a donkey advertising donkey rides (estimate £3200-300), while South-End-On-Sea shows a girl waterskiing and this is by Charles Pears and is expected to fetch £500-700. A very rare poster entitled East Coast Joys by Tom Purvis depicts a group of sunbathers lying by the water's edge, it is painted in flat primary colours and is estimated £400-600.
No Posters sale would be complete without Alphonse Mucha (lots 162-164) and Toulouse-Lautrec, whose delicate Elles lithograph in colours is estimated £14,000-20,000 (lot 187).
www.bloomsburyauctions.com