A fabricated, one-of-a-kind sculpture by Central Oregon artist Greg Congleton is on display in Bend, Oregon's Old Mill District until the end of February. The steel piece entitled "Papoose" features a Native American woman and child made from recycled parts. It is currently located at the north end of Powerhouse Drive, near Acadia Footwear, in the popular Bend, Oregon shopping and dining district.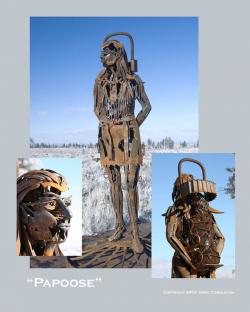 "Public art is an important facet of our culture in the Old Mill District," said Noelle Fredland, marketing director for the Old Mill District. "We are grateful to get a chance to display beautiful work from a talented local sculptor like Greg Congleton. 'Papoose' is so intricately crafted and interesting to study – many of our visitors are having fun trying to figure out all the parts and pieces that went into her creation."
The piece is comprised of a variety of recycled metal items. For example, spoons and forks make up the face of the woman, and automobile drive line and U-joints make up the knees and various muscles in the body. Other parts used in the sculpture include an ice cream maker, metal auto bumper, tricycle seat, saw blades, ball bearings, rakes and a barbeque grill.
Artist Greg Congleton is a Central Oregon native with roots extending back to early homesteaders in the region. Growing up in the country, he learned young to "weld together solutions for all kinds of things." He became interested in art as a child when he enrolled in an art correspondence course. His inherent talent and formal art training, coupled with nearly 30 years as a carpenter and builder gave him the skills to create the sculptures he produces today. www.gregcongleton.com
About the Old Mill District
The Old Mill District is one of the Pacific Northwest's most distinctive and dynamic mixed-use developments. Located on 270 acres that formerly housed one of the largest sawmill operations in the world, the Old Mill District offers a rich history along with spectacular mountain views and scenic river vistas. More than 49 retail shops and businesses call the Old Mill District home. In addition, the Les Schwab amphitheater is Bend's premier music venue, accommodating up to 8,000 patrons in its park-like locale. The Old Mill District – Bend's most unique shopping, dining, living, and working experience.
The Old Mill District is open Monday-Saturday, 10 a.m. to 7 p.m.; Sunday 11 a.m. to 6 p.m. Many stores, including Regal Cinemas and restaurants, have extended hours. For complete information on the Old Mill District, visit www.theoldmill.com.
The Old Mill District is open Monday-Saturday, 10 a.m. to 7 p.m.; Sunday 11 a.m. to 6 p.m. Many stores
Contact:
Noelle Fredland
Old Mill District
Bend, Oregon
541-312-0131
marie@campbellconsulting.com
www.theoldmill.com