The first major US retrospective of the artist will be shown at the International Poster Center.
Particulars: January 15 to February 1. Mon-Fri, 9-5; Sat/Sun, 11-6
Opening Reception with the Artist: Thursday, January 15, 5-8 pm
The first major US exhibition of one of the greatest living poster artists, Razzia. Synonymous with the retro-deco style of the 1980s, and creator of arguably the most important advertising campaign for Louis Vuitton, Razzia's posters never lack punch and pizzazz.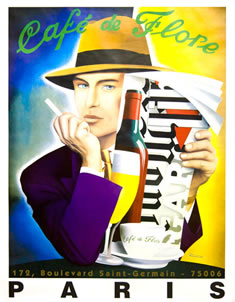 Part of a dying art, Razzia conceives his posters from an original painting rather than utilizing computer graphics, resulting in unique and distinguished works of art that revolve around the pure power of the image. Always bold and instantly recognizable, his work stands out as some of the finest in contemporary graphic design.
This retrospective will cover the entire arch of his career, beginning with the posters he created for the European rock scene in the late 1970s and early 1980s. Having been commissioned by the Rolling Stones, Led Zeppelin, Roxy Music, and Pink Floyd, his music posters where at the very heart of this era in popular culture. Of particular interest in this show are two posters made for the famous French music venue, The Palace: the first, advertising Screamin' Jay Hawkins' 'I Put A Spell On You' Tour; the second, for Rainer Fassbinder's wife, the great expressionist singer Ingrid Caven.
Also highlighted are Razzia's many posters for the icons of Parisian life and style: his famous images for Paris Fashion Week, 'Pret a Porter Feminin' and 'Haute Couture;' as well as those advertising such well-known French establishments that their names instantly invoke the romance of Paris: 'Café de Flore,' 'Bistro du Nord,' and 'La Coupole.'
Dominating the exhibition are the many works Razzia created for Louis Vuitton, in which the artist gives his spin on the "Art of Traveling with Style."
-Photos available upon request
-Call to arrange a private viewing
-Please attended an opening reception and party on Thursday, January 15, from 5 to 8pm, at which the artist will be available to sign all books and posters
-Artist available for interviews in New York City from January 13 through 16
Address: 601 W. 26th St. (btwn. 11th and 12th), 13th Floor. New York City.
212-787-4000