On Wednesday, April 13, the Fondazione Prada will present to the public a project of Rotor at Via Fogazzaro 36, in Milan. Curators of the acclaimed Belgium pavilion at the 2010 Venice Architecture Biennale, Rotor is a collective based in Brussels. Its members share a common interest in the flow of materials in industry and construction. On a practical level, Rotor deals in the conception and realization of design and architectural projects.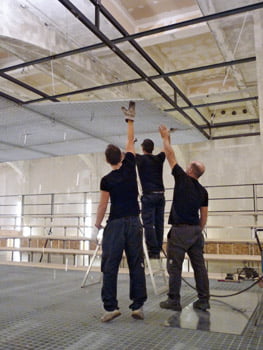 On a theoretical level, Rotor develops critical positions on material resources and usages through research, publications, writings and conferences.
In the annals of modern art history from Cubism, Futurism and Dadaism to the New Realism and Pop Art, the re-use of castoffs from everyday life and industrial production has been a constant. Addressing the fields of architecture and design, Rotor turns up the sculptural and visual presence of non-productive materials destined for the storehouse—such as the dismantled building elements used in fashion shows—bringing with it a new aesthetic and political interpretation of this concept.
In Rotor's words: "The Fogazzaro exhibition hall is the space where, each new season, the Prada fashion shows are held. Every one of these shows features a spectacular series of carefully constructed new ideas. To communicate to the audience, these ideas require materialization. Beyond the brief moments of its meaningful existence, that embodiment acquires greater weight. From an idea turned into a form, what is left is just a physical presence."
OPENING:
Wednesday, April 13, 2011, 6 to 9 pm.
HOURS:
From Thursday Apr.14 to Sunday Apr. 17, 10 am–8 pm.
Tuesday to Thursday, 2 pm–8 pm,
Friday to Sunday, 10 am–8 pm.
ADMISSION:
Free
CATALOGUE:
Progetto Prada Arte
CONTACT:
Fondazione Prada T +39.02.54670515, F +39.02.54670702
www.fondazioneprada.org
Image: Rotor, "October 2010". Courtesy of Rotor and Fondazione Prada. Photo by Roto