The Wexner Center for the Arts presents Megan Geckler One of the Six Solos Exhibitions, open Tue, Nov 9, 2010–Sun, Feb 13, 2011.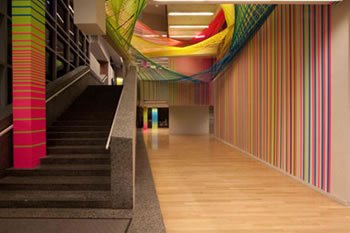 Megan Geckler has transformed the lobby of the Wexner Center into a lively, vibrantly colorful place with one of her intricately woven environmental sculptures.
Geckler uses only strips of translucent plastic tape in her installations, positioning them and weaving them together to create surface patterns and curvilinear forms. In this case, she has lined several walls and wrapped several of the center's iconic columns in tape stripes and designed a loosely woven form that hovers like a canopy above the center's lower lobby and café area. Geckler is based in Los Angeles, and her work has been exhibited at the Santa Monica Museum of Art, the Torrance Art Museum, Women & Their Work in Austin, Texas, and Los Angeles International Airport (LAX).
Although Geckler's Wexner Center exhibition doesn't officially open until November 9 (to coincide with the rest of the Six Solos shows), it is now on view in the Wexner Center's lobby during regular building hours.
The free brochure accompanying this exhibition (available in late November) includes an interview with Geckler by artist Laura Lisbon, a painter and associate professor in Ohio State's Department of Art.
Image: Megan Geckler Spread the ashes of the colors, 2010 Site specific installation for the Wexner Center Flagging tape and additional mixed media Courtesy of the artist Photo: Amy D. Flowers
Wexner Center for the Arts
1871 N. High St.
Columbus, OH 43210
www.wexarts.org