Chelsea's Agora Gallery will feature Canadian artist, William Wilson, in Beyond Borders. The exhibition is scheduled to run from October 05, 2010 through October 26, 2010 (opening reception: Thursday, October 07, 2010).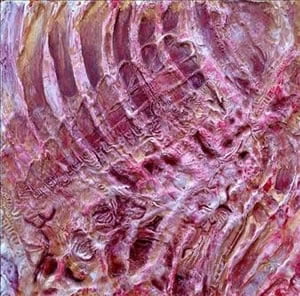 William Wilson's art takes the viewer into a world that is otherworldly yet also touches intimately upon subconscious shapes and forms. He creates work that resembles fossils of creatures from a fantasy world of long ago. He has said that he uses intuition to guide him through each painting, trusting his subconscious to decide which tools, mediums or surfaces to use each step of the way.
William is most inspired when using non-traditional tools, materials and methods in the creation of his paintings, as he then allows each piece to create itself without the restrictions of planning or the use of models and sketches to guide him. These creatures which he has unearthed from his creativity seem to be hybrids of dinosaurs, extinct plant life, humans and surreal shapes which resonate in our subconscious in startling ways. Truly an original, William Wilson bravely looks to his past as well as his dreams and brings both to the canvas for us.
Image: William Wilson, Pink, Oil & Acrylic on Canvas
Exhibition Dates: October 05, 2010 – October 26, 2010
Reception: Thursday, October 07, 2010, 6:00 – 8:00 p.m.
Gallery Location: 530 West 25th St, New York City
Gallery Hours: Tues – Sat, 11a.m. – 6 p.m.
Event URL: www.agora-gallery.com/ArtistInvite/william_wilson.aspx