Gottfried Keller's enthusiasm for what he sees before him is the motto for the exhibition on the 19th-century image of Switzerland from the Kunstmuseum Bern collection. The museum presents not only works that are strange or have hardly yet been seen, or visionary and realistic, but also well-known and familiar pieces from the rich fund of hidden museum treasures. With imagery that is deeply rooted in the national pictorial memory of the Swiss, a multi-facetted panorama enfolds in the exhibition that, still today, models the tourists' image of the country. On exhibition 13th July through 4th October, 2009.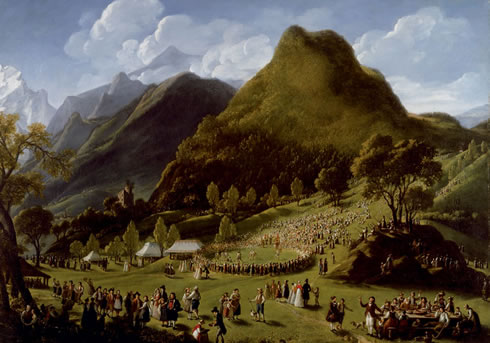 Elisabeth Louise Vigée-Lebrun, Das Alphirtenfest in Unspunnen am 17. August 1808, 1808-09, Öl auf Leinwand, 84 x 114 cm. Depositum der Gottfried Keller Stiftung, Kunstmuseum Bern
The exhibition focuses on representations of Switzerland that, in emulation of Albrecht von Haller and Jean-Jacques Rousseau, were spread far and wide in the 19th century via the medium of art. The overview commences with the political upheavals around 1800 and concludes with the decades that ensue the founding of the young federal state. Within this century a great diversity of national pictorial subject matter evolves. The exhibition is devoted to the theme of landscape. It reveals how, in the context of the legendary Grand Tour, the English tourists pilgrimaged to the natural spectacles and in what ways the artists responded to their demand for images. The perspective of the stranger on the sublime alpine region builds the starting point of the exhibition circuit.
Further chapters show how the landscape as political allegory is interpreted as symbolizing freedom and how the Romantic aesthetic experience of nature is continued through to the art of the Symbolists. Besides the great Salon paintings, the exhibition focuses on sentimental Realism, and on artificially lit transparent pictures. Simultaneously, visitors can submerge themselves in a familiar and yet aloof world of drawings, prints, book illustrations, topographical representations, sculptures, medals, and reliefs, which, in part, have never before been exhibited.
The presentation is conceived as a hike through the Swiss countryside, from the souvenir pictures of the lesser masters through to Ferdinand Hodler's cosmic view, and subdivided into themes. The exhibition room titles facilitate orientation and selecting the route.
The Museum of Fine Arts Bern is the oldest art museum in Switzerland with a permanent collection and houses works covering eight centuries.
Works by Paul Klee, Pablo Picasso, Ferdinand Hodler and Meret Oppenheim have made the Museum of Fine Arts Bern an institution with an international reputation. At the present time, the constantly growing and evolving collection consists of over 3,000 paintings and sculptures as well as 48,000 drawings, prints, photographs, videos and films.
The roots of the museum's history reach back to the revolutionary ideas proliferating towards the end of the 18th century which, in 1809, led to the founding of the National Art Collection in Bern and, in 1879, to the opening of the first museum building.
www.kunstmuseumbern.ch