The Getty Museum announced the acquisition of fourteen photographs by famed fashion photographer Hiro (Y. Hiro Wakabayashi), comprising work he created while on assignment for Harper's Bazaar, French Vogue and Mirabella from the 1960s–1990s. Prominently known in the 1960s and 1970s for his editorial work in Harper's Bazaar during a time when editors strove to fill their magazines with great photographs rather than ones that simply highlighted a product, Hiro's compositions, which feature unusual juxtapositions, have changed the face of the genre and continue to influence photographers today. All fourteen photographs were acquired through the support of the Getty Museum's Photographs Council.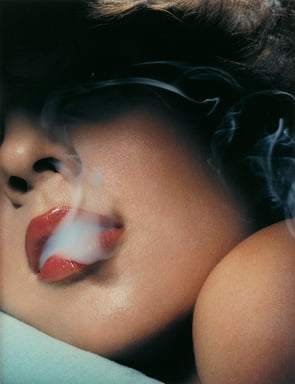 Maria Beadeux, New York, negative 1974; print 2011. Hiro (American, born China, born 1930). Chromogenic print. The J. Paul Getty Museum, Los Angeles, Purchased with funds provided by the Photographs Council. © Hiro

Highlights from the acquisition include Black Evening Dress in Flight, New York from 1963. Shot from above, Hiro captured the flowing movement of a model wearing a wing-stoled evening dress and slender, high-heeled satin sandals. Beauty in Strength, New York from 1964, also part of the acquisition, shows the bracelet on a woman's wrist. Interested in portraying a new generation of women by showing strength and vivacity, the artist tied a tourniquet on the model's hand to make her veins stand out. Also included is Maria Beadeux, New York from 1971. Created to show off Estée Lauder's new lip color, Hiro focused on the model's lips and instructed her in how to languorously release a puff of smoke from her mouth.
"Hiro's work is widely respected for its imagination, precision, and technical prowess," says Paul Martineau, associate curator of photographs at the J. Paul Getty Museum. "When I presented this group of prints to the Photographs Council, the excitement in the room was palpable. The photographs complement our growing collection of contemporary fashion photography which includes recently acquired works by Lillian Bassman, Guy Bourdin, Marie Cosindas, Sarah Moon, Robert Mapplethorpe, and Herb Ritts."
Other artists in the Getty's collection who established a reputation for their fashion photographs include Richard Avedon, Cecil Beaton, Louise Dahl-Wolfe, Baron de Meyer, Horst P. Horst, William Klein, Man Ray, and Edward Steichen.
"I was looking to build on the strength of the permanent collection with a photographer whose work rivals that of Irving Penn and Richard Avedon," explains Martineau. "I am grateful to Hiro, the Photographs Council, and to the Pace MacGill Gallery for working with us to make this important acquisition possible."
The artist has generously offered to donate Marisa Berenson, Hat by Halston from 1966 and an additional three prints were acquired for the Museum by Council members Anne Cohen, Manfred and Hanna Heiting, and Dr. Richard and Strawn Rosenthal.
Hiro (Y. Hiro Wakabayashi) was born in Shanghai in 1930 of Japanese parents. He emigrated from Japan to the United States in 1954. Hiro took several classes at the School of Modern Photography in New York City and served a photographic apprenticeship before landing in the studio of Richard Avedon in 1956. The following year, Avedon decided that Hiro was too talented to be his assistant and introduced him to Alexey Brodovitch, the art director at Harper's Bazaar. Brodovitch gave the young photographer a position on the staff of the magazine and, within a few years, Hiro rose to prominence for his extraordinary fashion photographs. In January 1982, American Photographer magazine devoted an entire issue to Hiro and asked, "Is this Man America's Greatest Photographer?"
Hiro's work is published in three monographs and can be found in the permanent collections of the Museum of Fine Arts Boston, George Eastman House in Rochester, and the National Portrait Gallery in Washington, D.C.
Additional information is available at www.getty.edu.