Frederik Meijer Gardens & Sculpture Park is the exclusive venue for the first retrospective of sculptural works by Pop Art master Jim Dine. As one of the most revered American artists, Dine has been a major force across the contemporary scene since the advent of the Pop Art movement. Celebrated for his paintings and graphic work, Dine's equally prolific and profound efforts as a sculptor are less well-known. Jim Dine: Sculpture will be on display January 28 through May 8, 2011.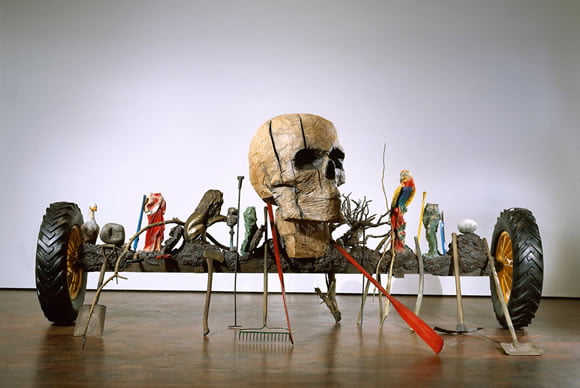 Jim Dine. Wheat Fields, 1989. Painted bronze with patina and pigment, 80″ x 172″ x 99″. Denver Art Museum Collection: Funds from NBT Foundation. © Jim Dine /Artists Rights Society (ARS), New York. Photo © Denver Art Museum 2010. All Rights Reserved.
The exhibition traces the origins of Dine's sculpture from the early work of the late 1950s and the early 1960s through his most recently completed efforts. Many of Dine's iconic themes are explored including his use of tool and tool imagery, the Venus figure and the heart motif. Most recent is his exploration of the Pinocchio theme.
"Dine has a vast creativity and willingness to turn to a variety of images, many derived from found objects and popular or consumer culture," said Joseph Becherer, Vice President and Chief Curator of Sculpture. "His sensitivity for textures and surfaces coupled with his mastery of materials allows him to create works in a range of materials from cloth to bronze, straw to wood."
With more than 20 works, it is Dine's largest sculpture exhibition to date. It will encompass all three of Meijer Gardens' gallery spaces as well as non-traditional exhibition spaces. The Technicolor Heart (The Big One), a 12-foot painted bronze heart will be displayed on the adjoining Keeler Sculpture Terrace. Venus in Five Colors, five-foot bronze female figures in a variety of hues, will be installed in the five-story Lena Meijer Tropical Conservatory. Visitors can experience the depth and breadth of the artist's efforts by also visiting The Thunder, part of the organization's permanent collection, on display in the Sculpture Park.
"Dine is one of the most important artists in our collection and we're proud to host this complete and breathtaking survey of his sculpture," said Becherer. "He has the ability to create a body of iconic imagery. While frequently personal in initial inspiration and use, his work speaks to a broad and diverse audience."
www.meijergardens.org