The Henry Moore Foundation recently awarded Historic New England a grant to support the acquisition of a Henry Moore sculpture for the Gropius House in Lincoln, Massachusetts.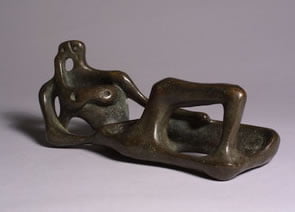 The grant of £7,000, approximately $10,000 USD, goes toward the permanent acquisition of the bronze reclining figure given by Moore to Walter and Ise Gropius in 1946. The bronze sculpture was passed down to the Gropiuses' daughter, Ati Gropius Johansen. The sculpture has been returned to its original location in the living room at the Gropius House.
The Henry Moore Foundation is one of the United Kingdom's leading art charities and awards grants to support art projects and exhibitions both in the U.K. and abroad.
Historic New England is a museum of cultural history that collects and preserves buildings, landscapes, and objects dating from the seventeenth century to the present and uses them to keep history alive and to help people develop a deeper understanding and enjoyment of new England life and appreciation for its preservation.
Image: Reclining Figure, 1945, bronze sculpture by Henry Moore (1898-1986), one of edition of 7
www.historicnewengland.org